Building Brands Marketing Awarded TechSoup Endowment for 30 Facebook Portal Devices for Nonprofit Clients
VICTORIA, TX – Building Brands Marketing (BBM) has been awarded an endowment by the tech company, TechSoup, for 30 Facebook Portal video conferencing devices which will be distributed to BBM clients who are in the nonprofit industry.
"Our team is always looking for new ways to help optimize efficiency for our clients in the nonprofit sector," said Robert Royer, President and CEO of Building Brands Marketing. "This tech has become increasingly costly over the past few years, so now more than ever, it is important we take advantage of every opportunity to advance our nonprofit-related clients, especially when this service provided by BBM comes at no cost to our non-profit clients."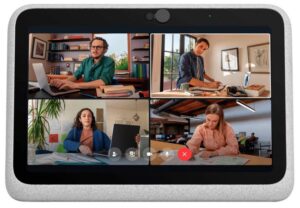 The Portal devices provide high-quality resolution and sound for video conferencing. According to Meta.com, Portal technology includes app integration, voice enhancers and background noise reducers to lessen the possibility of simple technological errors. The video conferencing tools resemble common tablets and are completely portable.
Royer went on to explain the devices will help streamline communication between in-office and remote employees by giving organizations the ability to host virtual meetings without having to invest funds from their annual budgets in similar technology. "The Portals will allow our clients to collaborate with ease. Since the tablets are specifically for video conferencing, the teams will be able to dedicate their computers to important meeting-related tasks rather than using them as hubs for their virtual meetings." shared Royer.
For more information about Building Brands Marketing, visit:buildingbrandsmarketing.com
About Building Brands Marketing
Building Brands Marketing is a full-service marketing consulting and advertising agency in Victoria, TX. BBM offers digital and traditional marketing services that make businesses stand out from the crowd. BBM clients enjoy a comprehensive marketing strategy that stays on budget with cost analyses to optimize spending. Building Brands Marketing provides a deep reservoir of experience with large-scale marketing campaigns that drive a desirable ROI. Learn more at www.buildingbrandsmarketing.com.